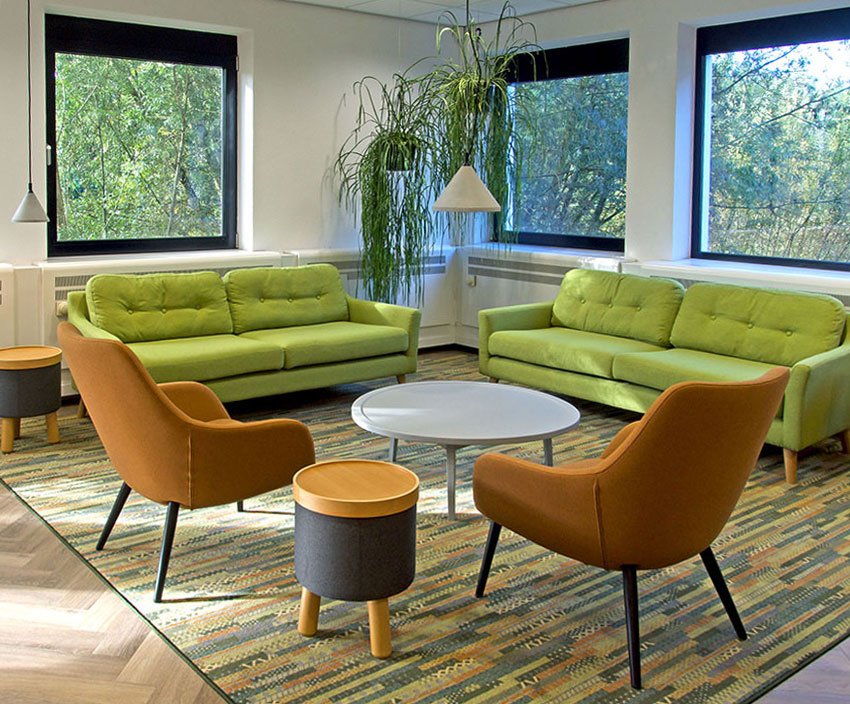 BACK TO OFFICE: innovation and creativity in the first place!
Sitting at your own desk, watching your two-dimensional colleagues as the walls come at you; we all recognize it. Over the past year and a half we have become accustomed to a completely different way of working, in which distance was the theme. Now, after a long period of working from home, we can go back to the office; innovation and creativity are buzzing again!
Back to office: what does all this involve?
Creative director Gonnette Smits of Muurbloem design studio answers questions. 
What is the main difference between working from home and working in the office? 
Working from home blurs the line between work and private life. This can be an advantage in certain phases of life, for example if you have a family. You can work efficiently and task-oriented. However, you don't have colleagues around you with whom you can spar and get inspired by. Creativity is less stimulated. This also brings us to the biggest advantage of working on location: creativity and innovation are more in motion on the work floor! 

How can an environment contribute to a good workflow?
It is very important to cultivate a culture in the workplace in which all employees experience freedom of movement. By this I mean that different spatial layouts must be present; a place to meet or have duo conversations, a place to work independently and a place to brainstorm and create, for example. Everything that is needed for this must be present in these places; think of computers, inspiration material and other facilities.
Besides the work culture, what is important in a workplace? 
The entrance is undeniably important. How you walk into a place determines how you look at a company or building. Are you received by someone? How are your senses stimulated and how do you get a clear picture of the place? The entrance is the face of your company. It gives a picture of its health and culture.
How does Muurbloem contribute to a good working environment? 
For example, Muurbloem realized an interior project in 2021 at Enginia, a company that stimulates innovation and technology by supporting others in this. Enginia has three spaces; a common room, a meeting room and a workspace. Muurbloem designed these spaces and the entrance of the building. Now that Enginia is running at full speed on location again, meeting and inspiration are very important and the design contributes enormously to this.
On to a time in which not only your home, but also the work environment serves as a source of inspiration again!
---
Interview with Gonnette Smits, Creative Director
Written by Anna Sofia den Herder, Junior Project Manager